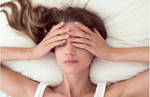 It's Time to Say Bye Bye Under Eye Circles
Whether you're an early bird or a night owl, dark under-eye circles play no favorites. While in some instances it might have been that all-nighter you pulled in other cases, they seem to follow you around no matter how much sleep you get. So, what's the secret to a fresh, bright-faced complexion? Here's what you need to know about treating your under-eye circles.
What Causes Dark Eye Circles?
The area underneath our eyes is naturally thinner leaving it susceptible to slight irritations. While of course dark eye circles can be due to growing older, a lack of sleep, allergies, or fluid retention, a lot of the time they can be passed down through the generations. In terms of the latter, hyperpigmentation and poor blood circulation are the top two underlying causes, the second of which can be distinguished by its slightly purple undertones. Before rushing to a doctor or cosmetic specialist, take a deep breath! While often dramatized by the beauty industry, under-eye circles are incredibly common and in most cases nothing to worry about. But to give your skin some love, let's take a look at some natural beauty remedies you can test out at home!
Tips and Remedies for Treating Dark Under Eye Circles
Consider Your Diet
Did you know that what you eat can affect the appearance of your undereye circles? In fact, salty food is top on the most wanted list - and not in a good way. Eating salty foods makes your body retain water, often causing puffiness on the face. Try balancing your intake with lots of water, collagen supplements, and foods rich in vitamin A and C.
Get a Good Night's Rest
A good night's sleep can do wonders for your complexion. Getting enough rest allows you to lower your stress levels and decrease the production of cortisol thus preventing your under-eye blood vessels from overfilling. Our extra hot tip is to try sleeping on your back as much as possible and add an extra pillow to avoid extra fluid retention.
Invest in a Good Eye Cream or Serum
Did someone say vitamin C? Skin products rich with vitamin C and hyaluronic acid such as our serum can help brighten dark circles and increase collagen production leaving your skin plump and firm. Paired with a cream such as our eye contour booster will leave you feeling as good as new.
Try Using Tea Bags
This old trick actually has some merit! Pick up your favorite caffeinated tea (preferably black or green tea), soak in hot water, squeeze the excess liquid out, and chill in the freezer. After some time has passed, take them out and let them rest on your eyes for 5-10 minutes. As a source of natural tannis and antioxidants, this little self-care routine will leave you feeling rejuvenated.
What Are Your Top Tricks?
Do you have a trick that didn't make the list? Comment down below - we'd love to hear your thoughts. For more beauty insider tips and updates on our natural skincare brand, check out our other blog posts here.